Trucks hitting bridges and viaducts...whos fault?
Trucks hitting bridges.. whos fault is it? who should pay for the damages? what can be done about it?
well almost all of you are saying- its that dumb-ass truckers fault. and in alot of cases your absolutly right.
however, here in chicago, there are lots of low briges and viaducts. it is a HUGE money maker for a wrecker company. and we are talking a minimum of around $3-5,000 and i'v seen bills as high as $20-25,000 for 1 truck stuck under a bridge. of corce u have to remember that each job is different and require different methods, equipment and personel. but this post is not about pricing or price gouging- thats a topic that could go on for many many pages.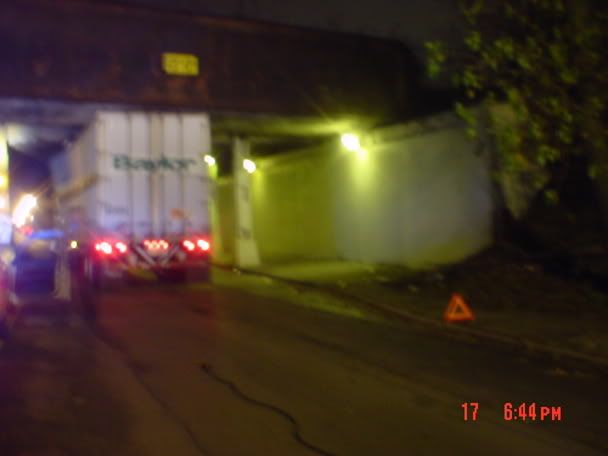 Lin-Mar Towing pulled this one out from Root st in chicago
it seems that when ever the city of chicago posts low bridge signs, within days they dissapeer, get run over, turned around, unreadable or defaced in some other way. now i'm not pointing fingers, but lets say i have ideas.
with out getting into another topic all together, in chicago proper, there are a large number of towing companies that chase accidents. these chasers are like vultures. when a helpless victum is involved in an accident, they swoop in from 8 directions to steel and scam the tows. with a bridge strike, most of the scammers don't have a heavy duty truck so they work with the "heavy duty chasers." in return for getting the calls the small scammer gets a kick back of anywhere from $200 to $6,000 depending on how bad the call is and how much money is to be made. i have been told there are cops and other people geting kick backs too but no proof has come to light. i have seen these "scammers" giving the semi drivers $$$ to keep there mouth shut and tell there companies about the accident after the fact and / or that the scammer was called by the Police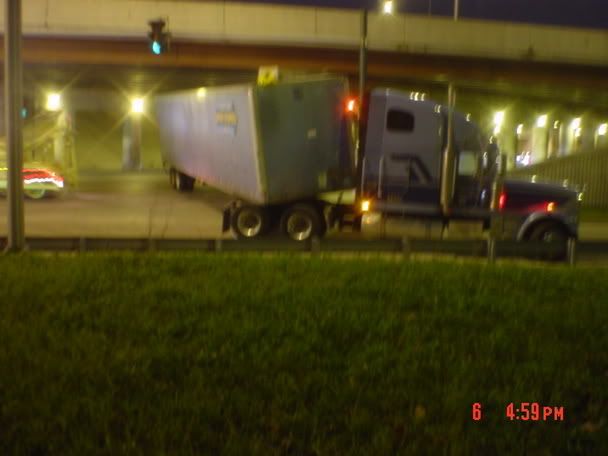 this truck cut the turn too quick- IDOT pulled this empty trailer back off the viaduct.
now, some of you towers and non towers are wondering, why is the price so much, whats the big deal? well here's the deal its not just as simple as winching the truck out. but let me first give u all a quick lesson in the trailers of today, they are flimsy. in short, they are almost all uni-body trailers. what that means is, if one part of the trailer is even slightly damaged, the integrety of the whole trailer is in question. this may be odvious in cases where the trailer is colapsed or ripped open like a sardeen can, but it is almost more importent to observe this when there is minor damage. this is bacause only a little damage is often taken for granted and proper steps are over looked. this can lead to the wole trailer colapsing or rolling over.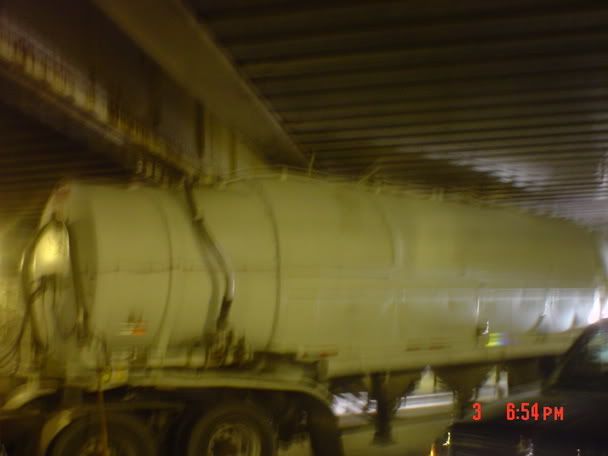 Schmidts towing showed up to pull this tanker out, it probobly could have been drivin out and it wans not stuck badly
when a truck hits the bridge, the most importent factor is- what is it loaded with? im most cases, the trailer must be unloaded- by hand- into another trailer, remember untill the integrety of the trailer is not in question anymore- u must not move the trailer anymore than nessesary to avoid any further damage or colapses. what that means is we can not take this to a dock to unload and because of the close quarters and unstable floor- a forklift is out of the equasion. a second trailer is brought in and a hand jack is often employed. in most cases the trailer is unloaded into one of the wrecker companies trailers.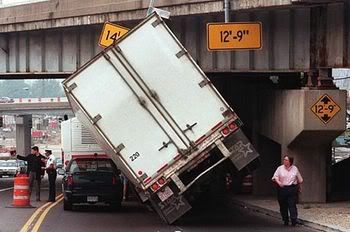 this TT almost rolled over. this pic curticy of our friends at www.priceless420.com
unloading is tricky and can often be much more complicated than it seems. if you do not have identical trailers or larger, the load may not all fit in the second trailer. do u need a reefer trailer ( refrigerated trailer)? heated trailer? is the load oversized? can we move it by hand or is a forklift absolutly nessesary? are the skids in a position where we can get a pallet jack under them? is the load on pallets? is the load food product? freash? hazmat? what kind? how much care does the load require to handle? how much is it worth? should a rep from the shipper, reciver, trucking company, or insurence company be present befor the load is touched?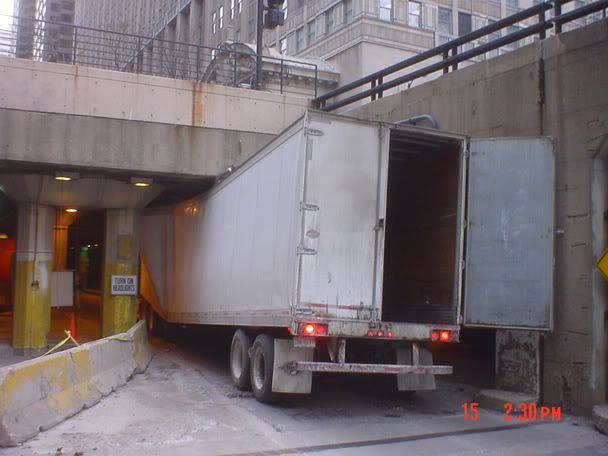 this tt hit the tunnle enterence to lower wecker dr in chicago. Mares towing recovered this
once a trailer has been compleetly hand unloaded then pulling can comence. once pulled out, the trailer must be chained undernieth and the top must be strapped to avoid flapping and falling debries durring transport. in some cases the rear door frame has to be secured to the trailer because it has un attached or becomed bent away from its proper posision.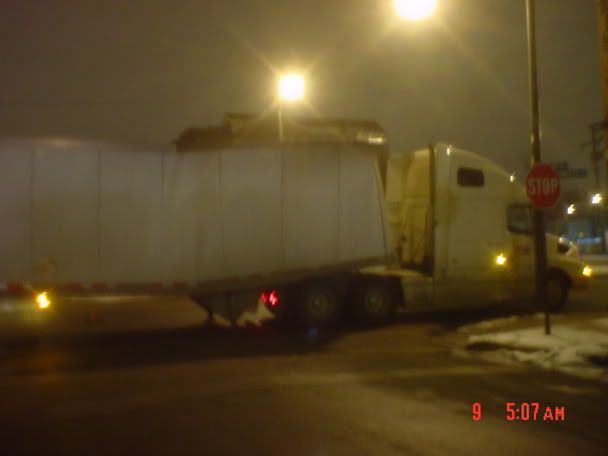 Lin Mar pulled this one out from North ave Bridge
towing also is required for the tractor as well as the trailer. in a lot of cases because the tractor hit the bridge, it tends to bend and close the exaust pipe, making the tractor undrivable. the tractor and trailer often get towed back to the towers yard for storage untill the insurance company decides what corce of action is nessessary and the bill is paid.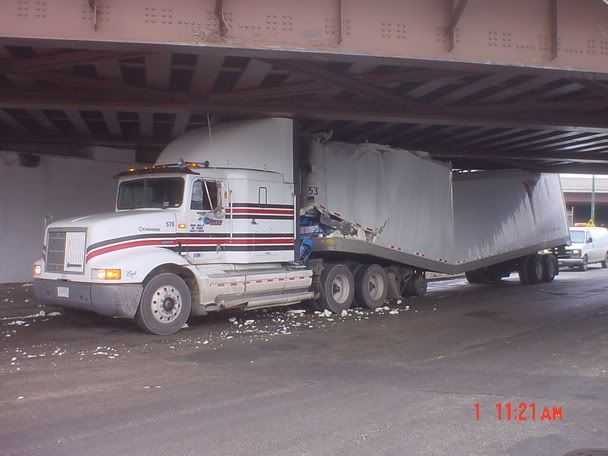 this truck was stuck under the webster street rail road bridge.
the trailer needs to be unloaded again into a compony trailer OR the load needs to be delivered.
atleast now, you may have a general idea of what is involved and im sure i forgot a step or two or did not go into enuff detail, but in every case, the situation is different and requires differnt actions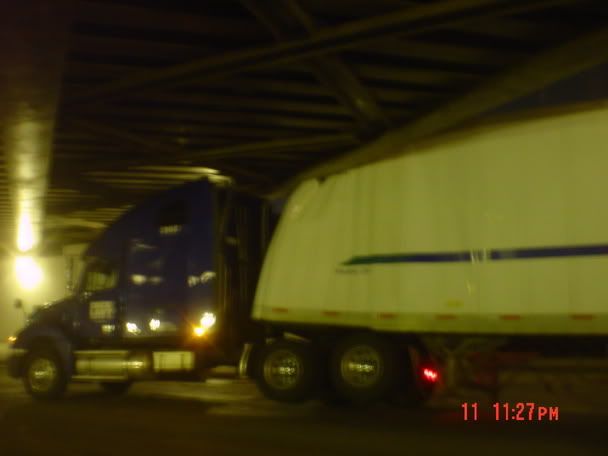 Lin Mar recovered this from the webster st bridge-
these type of accidents are not limited to full size semi TTs. they can happen to any vehical that travels under a structure lower than the top of there vehical. these are rare but they do happen.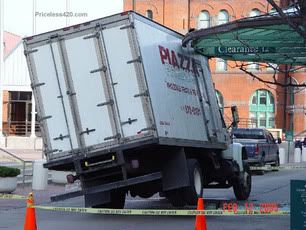 this pic and the following 2 are from our friends at www.priceless420.com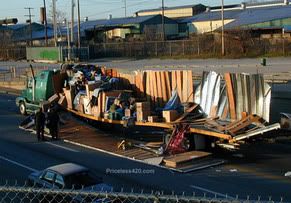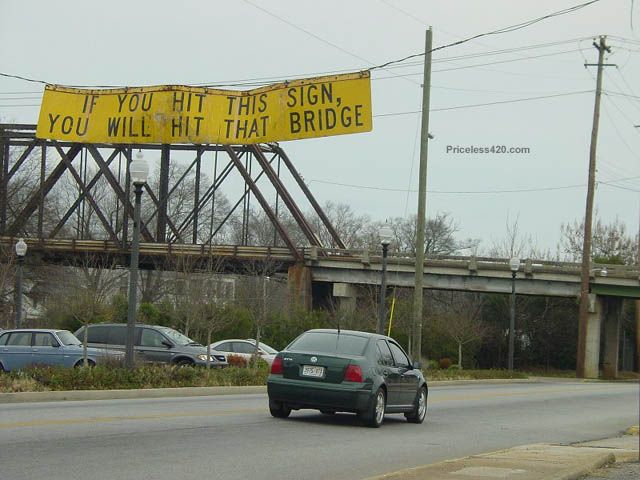 This is a great way to warn of a low bridge. By the looks of it, several trucks have hit the sign.
So I ask again, whose fault is it?
when it comes to scammers, they r not just hurting the trucking companies but they are hurting our industry image, insurance companies, and stealing recoveries from good and decent towing companies that are contracted with the company in the accident. I have gone back and forth on the issue of soliciting tows. I still can't come up with a definitive answer. On one hand it the American way, you work hard and look for every opportunity to better your company and build your business. On the other hand, I don't like "bottom feeders" that sit all day by a low bridge waiting for there next victim.
Earlier today a truck hit the bridge at north ave and there was not 1 or 2 scammers but 8 chasers fighting with each other for the recovery, and what's more, none of them if they would have got it, would have done the recovery, they would have called their scammer heavy duty company. There are 3 companies in chicagoland that have heavies that do nothing but scam. The one company use to be respectable then they fell. a guy I know showed up to look at the truck under the bridge, they did not even get out of their heavy, but one of the chasers started yelling for them to get out of there because they already had Grand and Aberdeen towing in route.
It's this kind of attitude and method used that I base my hate for the scammers. They use unethical methods to get the recoveries, unethical means to keep it and then they charge unethical rates and rape the trucking company.
I don't have a problem with fair business, first guy there, fair prices, and curticy to your fellow tower. So as far as good and ethical towers trying to drum up more business- LAGITIMATLY- good for them. I just can't stand the bottom feeders that live off other people's misery and then make it worse.